VALUE VAULT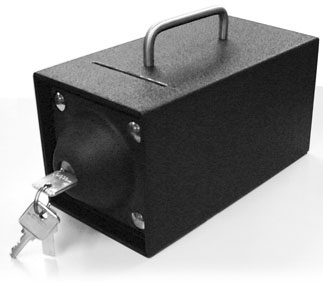 The Value VaultTM is an inexpensive, compact, tough, locking strongbox for use in dormitories, hotel/motels, locker rooms, boats, trucks, pools, small businesses, and other locations requiring a way to secure wallets, money, watches, jewelry, keys, passports, and other small valuables.
Properly anchored to a floor or wall, or under a counter, this heavy gauge welded steel powder coated case receives a box locked into place on all four sides, presenting a formidable but affordable solution to personal security.
The unit is available with a choice of two locks, according to the level of security desired: TriGard or Medeco.
Outer shell dimensions are 4 3/8ths inches by 4 3/8ths inches by 8 1/2 inches long. The inner tray is 3 1/4 H by 3 1/2 wide by 63/4 long. Two keys with each box. Multiple units available keyed alike, or keyed differently.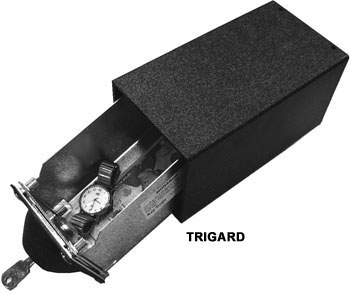 MEDECO
Highest Security
Restricted Keying
TRIGARD
A 14 Wafer
Triple Bitted Key
Exclusive to Monarch
Outer Housing Powder Coated Inside & Out
Tray is Galvanized and Powder Coated Face
OPTIONAL FEATURES
Carrying Handle (add $2.50 each)
Milled Slot for Drop Entry of Keys, Receipts, Bills, etc. (add $3.00 each)
Other Locks Available (call for quote)
Special needs? Give us a call!