Over 100 Years of Innovations
Monarch Tool and Manufacturing Company was founded in 1903 and incorporated in 1905. The original partners were Mr. Louis Hall and Mr. Walter Boer. Although Monarch was involved in the production of many different parts, from marine engines, to specialty valves, and parts for appliances and automotive parts, from the very beginning we have been involved the production of coin mechanisms for various applications. Early player pianos used our coin boxes and timers as well as the player bar. Later, juke boxes used Monarch coin devices and stampings for internal mechanisms. Pool Tables have long used Monarch Mechanisms as well.
Coin mechanisms with a slide were a part of our line from the earliest days. The unit shown at the right was used to control player pianos. These were made to accept pennies, nickels and dimes, and included a built-in timing mechanism. Vending machines came on the scene early in the century, and Monarch was there with a push/pull style mechanism to serve that need. Early cigarette and candy machines used products similar to the one at the below.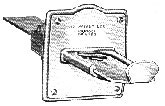 In the early 40's, Mr. Mitchell Hall bought the company from his father & his fathers partner, Lindel Myers. Soon after that, he began working with Ed Heath, who established Heath Sales of Macon Georgia as a company to market Monarch products to the manufactures. For the next 35 years, this arrangement, based on a handshake, and mutual respect, saw Monarch grow and become an innovator in coin mechanisms. Mr. Hall has accumulated a number of patents for features and variation to involving coin mechanisms and other products. The birth of coin operated laundry equipment actually began much earlier than is usually recognized. Pilot projects, using coin mechanisms and timers installed in the skirts of wringer type washers, began as early as 1936, but the re-tooling of American for World War II put all such projects on hold for the duration. During the war, Monarch was involved with the production of parts for munitions, and other materiel for the war effort.
When the war was over, Monarch was there with the Model 444 Single Coin Mechanism. With only a few cosmetic changes in the intervening years, the mechanism is still available and going strong, although today it is mostly for tokens and Tokettes. It is estimated over 10 million of these units have been made over the decades. This is our primary slide for our unique tokens,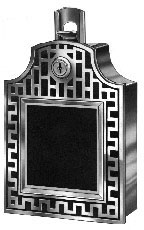 but if you still wish to have one that only accepts pennies, we will be happy to oblige!
In the late 50's, Monarch introduced the Model 1000, which accepted two coins. The 444's and the 1000's were the workhorses for the coin laundry industry for many years. With the radical inflation of the 70's, the time was ripe to introduce the Vertical Eight Coin mechanism, which has proven versatile and rugged, serving in many countries for many different coins. The rise of the vertical four and five coin acceptors have made the Model 1000 obsolete and production on this unit was discontinued in the early part of 2000.
We now have the fourth generation of Halls taking an active part in the operation of Monarch. Mr. Mitchell Hall passed away in 2001. His daughter, Stephanie, continues to manage the day-to-day operations. And recently, her daughter Danielle, and her son, Elias have joined Monarch and are now working in the plant, learning the operations of the company.
Today, Monarch strives to produce the best American Made products possible. Our efforts include the introduction of new products and supplemental accessories, such as the Monarch Key KopTM and the AquaMiserTM Shower Timers & Universal Bathroom Lock
Our position is that we are not just a manufacturer. We are a service provider, and our service is to provide you with the items you need in a prompt manner. All of us at Monarch thank you for your patronage. You are the reason we exist. As we approach our centennial, we look forward to serving you for many more years to come.
Behind the name…
For nearly 100 years we have proudly carried the name Monarch Tool & Manufacturing Company Incorporated. When the company was founded in 1903, very few places had electricity. Home appliances were nonexistent. Washing was done with a tub, washboard and mangle. Automobiles were rare, and most people still got about by horse. In1903 the first airplane took flight. Teddy Roosevelt was President. It was a time when manufacturing drove the American economy, generating the wealth that made the country strong.
We have manufactured many products in many different industries for nearly a century. Parts for player pianos and jukeboxes, and marine engines. Parts for mess kits in World War One. Parts for valves and parts for safes. Parts for early radios and parts for the automotive industry. Parts for and aircraft in World War Two. We produced the tooling to make these parts, and the tooling for other companies to use in their factories.
In the 1940's, we were an integral part of the birth of the Coin Operated Laundry Industry. We became focused on coin mechanisms and related security items, such as coin boxes, locks and keys and the Key Kop line of locking key rings. Today we are almost exclusively involved with these areas. The "Tool" in our name has become irrelevant, misleading and generally inappropriate.
The time has come to adopt a name that is more closely related to our current activities. As a result, we are changing the name of our company to Monarch Coin and Security Incorporated.
The name covers those areas where we will continue to operate. Perhaps in another hundred years we shall need to change our name again, to fit activities we cannot even imagine today, but this is a part of growth and evolving to serve the needs of the marketplace.
---
A Little History on Monarch Coin and Security!
Monarch Coin and Security, Inc. was the originator of the coin slide in the U.S. providing many different industries, such as coin laundry, a backbone over the years with a name they can depend on. Our coin slide/coin chutes and other products have been used in many different devices and featured in various ways throughout the years. From coin laundry to vending machines, from player pianos to juke boxes, our coin operated products and security products have been there.
Throughout our years, Monarch Coin and Security Inc. has been instrumental in developing many different industries. Coin Laundry or Self Service Laundry is one of the areas that over the years we have helped nurture and develop with our coin slides and money boxes. Monarch has been the "grandfather" of the Coin Laundry industry so to speak. Our company created the Modern day coin slide, or coin chute as it has been named, which has ultimately led to coin laundry. When in came to the term "Coin Laundry", Monarch was there.
With conservation of resources more prevalent than ever, coin operated products such as coin operated meters and timers, and coin operated door locks are in high demand. Security is now in higher demand than we have seen it in recent years. Monarch produces locking key rings referred to as Key Kop Locking key rings for industries and businesses where key control is essential. Our company has also been developing many different locking devices such as our Value Vault portable safe for many years. These products have been praised by the security industry, government and military, the locksmith community, as well as corrections, jails and prisons.
We have always worked closely with these industries, dating back to the times when Monarch produced munitions for the war. Over the years we have developed many different products such as the coin box or money box used for coin laundry. We have also developed coin operated meters and timers for electric, coin operated lighting, coin operated showers and many other products that use coins or tokens. Our coin operated door lock is used as one of the only coin operated bathroom locks on the market. With a growing need to protect facilities, the use of coin operated door locks or coin operated bathroom locks is on the rise.
We produce a large number of products such as laundry locks, laundry extensions, coin operated pressure washers, coin operated heaters and more products which are used all over the world. Monarch also carries change machines, soap machines (or soap vendors) and many other products that make us one of the leaders in the industry. Our goal is to provide the quality service that as consumers we all have come to expect.
With our technology developing the coin chute / coin slide, and the Money box (or coin box), our company has been essential for companies developing and expanding their business by allowing their products to be coin operated. Coin operated products have allowed business owners creative ways to earn an income. This technology is used in the gaming industry, laundry industry, vending industry, coin laundry and all industries using coin mechanisms.